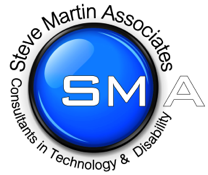 What is Assistive Technology
Assistive technology (AT) is an umbrella term used to describe special products/services designed to empower a disabled person or increase their independent function.
AT has much to offer and can help to restore a claimant to the position they would have been in were it not for the index event. This will include technology to help with: education, work, entertainment and daily living.
What We Do
Steve Martin Associates (SMA) is the premier provider of assistive technology assessments for litigation in the UK.
SMA's consultants have a long history of producing litigation reports that conform to the requirements of Part 35, receiving instructions to produce single expert or joint reports focused on any technology that would play an important or vital part in an individual's life.
We work closely with personal injury and medical negligence firms across the UK and Ireland taking a collaborative approach with other experts involved in the case.
We have adopted a hybrid approach to assessments, predominately using video calls in the first instance but always carrying out a face-to-face meeting when required or if instructed to do so.
SMA consultants are proud to be associated with:
Our People
Our skilled consultants have years of experiance working exclusively in the special needs arena.
We are able to identify issues and make costed recommendations as to where technology can help to address and overcome disability related problems.
All our consultants are extremely familiar with the litigation process and understand the needs of Personal Injury Lawyers.