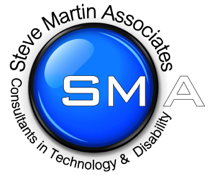 Contact Us
Our consultants can work throughout the UK, Ireland and Europe.
If you would like to discuss a particular individual or case then please get in touch.
Our People
Our skilled consultants have many years working exclusively in the special needs arena.
We are able to identify issues and make costed recommendations as to where technology can help to address and overcome disability related problems.
All our consultants are extremely familiar with the litigation process and understand the needs of Personal Injury Lawyers.
What We Do
Steve Martin Associates (SMA) is the premier provider of technology assessments for litigation in the UK.
We have substantial experience in dealing with a wide range of claims, from serious injuries to smaller claims. We regularly work with the country's leading law firms to assess and quantify a client's needs: for example following a birth injury, undiagnosed congenital disorder, industrial or road traffic accident.