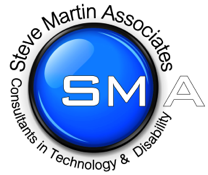 Moira has over 30 years' experience of working in the field of special education.  Her specialist areas and qualifications are in the fields of cerebral palsy with profound and multiple sensory impairments, learning difficulties and global developmental delay. Her career has fuelled her interest and knowledge of special needs technology for children and young people who have complex health and physical impairments.  
As a Specialist Advisor for ICT and Augmentative and Alternative Communication Moira has assessed children and young people with complex disabilities. She has evaluated their needs within education and made specific recommendations for assistive technology to support pupils across the curriculum. She embraces a multi-disciplinary approach, working with professionals from education, social care and health; working within a range of settings including schools, colleges, family homes, children's centres, nurseries and NHS clinics.
Moira has designed multiple bespoke ICT training courses and delivered these, county-wide, to numerous individuals, families, small groups, therapy teams and school staff. These bespoke courses cover all aspects of special needs technology.
Moira collaborates closely with major software companies such as Crick Software, Widgit and SmartBox. All of whom are well known in the industry. Her knowledge and experience of the Assistive software and hardware has enabled her to support and implement the best possible solutions to assistive technology for children and young people with complex disabilities.
Now working in the Bristol area as an Independence, ICT and Transition Co-ordinator, Moira is working together with families and the local education authority for a special school that is Ofsted rated as 'Outstanding' for 'Leadership and Management'. The report notes that: "Eye-tracking technology and speech and communication enhancing technology is used very well and is enabling students' access to a greater range of educational and social opportunities". 

Moira was the past Chairperson of the Department of Education's Special Needs and ICT Network (SNICT) group for the South, South West and Wales Advisors
She is currently a moderator for the SENCO forum hosted by NASEN – National Association for Special Educational Needs. This is an independent, online forum for sharing best practice and practical advice to support pupils with special needs and their access to assistive technology and other subjects relating to education.
She has successfully completed the following Bond Solon courses:
• Introduction to Civil Procedure Rules.
• Excellence in Report Writing – Written Evidence.
Moira holds an Enhanced Disclosure Certificate from the Disclosure and Barring Service.